Air Quality Monitor PM 2.5, Formaldehyde, Temperature & Humidity Sensor
This is a multifunction air quality monitor that can be detected not only the concentration of particles and formaldehyde but also the value of temperature and humidity. As the particle concentration sensor it can be used to obtain the number of suspended particles in the air by laser. It also integrates in it an electrochemical probe for formaldehyde and an one- chip sensor for temperature and humidity. The sensor can be inserted into variable instruments related to the environment parameters in the air or other environmental improvement equipments to provide correct data in time. 
Working principle: Laser scattering principle is used for such sensor, i.e. produce scattering by using laser to radiate suspending particles in the air, then collect scattering light in a certain degree, and finally obtain the curve of scattering light change with time. In the end, equivalent particle diameter and the number of particles with different diameter per unit volume can be calculated by microprocessor based on MIE theory. Please find the functional diagram of each part of sensor from Figure 1 as follows. The function of formaldehyde detector is based on the electrochemical theory and math algorithm.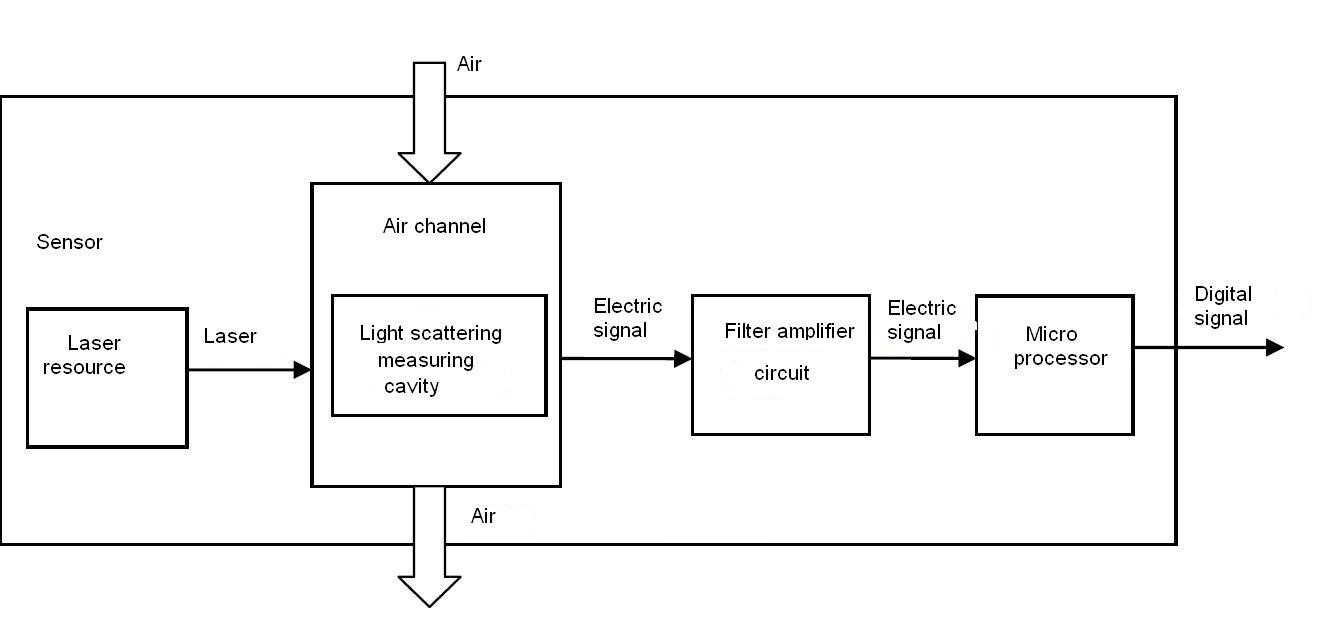 FEATURES
Zero false alarm rate

Real-time response

Correct data

Minimum distinguishable particle diameter :0.3 micrometer

High anti-interference performance because of the patent structure of six sides shielding

Optional direction of air inlet and outlet in order to adapt the different design

Concentration of Formaldehyde output

Temperature and Humidity output
SPECIFICATION
Operating Voltage: 5.0VDC

Active Current: 100 mA

Standby Current: ≤200 uA

Interface Level: L [email protected]

Particle Range of measurement: 0.3 ~ 1.0μm; 1.0 ~ 2.5μm; 2.5 ~ 10μm

Particle Counting Efficiency: 50%@0.3μm 98%@>=0.5μm

Particle Effective Range (PM2.5 standard): 0 ~ 500μg/m

Particle Maximum Range (PM2.5 standard)*: >0 ~ 2000ug / m³

Particle Resolution: 1ug / m³

Particle Maximum Consistency Error (PM2.5 standard data)*: ±10%@100~500μg/m³ ±10μg/m³@0~100μg/m³

Particle Standard Volume: 0.1 L

Formaldehyde Effective Range: 0 ~ 1 mg / m³

Formaldehyde Maximum Range: 0 ~ 2 mg / m³

Formaldehyde Resolution: 0.001

Formaldehyde Maximum Consistency Error:
Temperature Maximum Range: -20~99 ℃

Temperature Resolution: 0.1 ℃

Temperature Maximum Error: ± 0.5 ℃

Humidity Maximum Range: 0 ~ 99%

Humidity Resolution: 0.1%

Humidity Maximum Error: ± 2%

Weight: 50g

Default Baud rate: 9600bps

Total Response time: ≤ 10s

Operating Temperature Range: -10 ~ +60 ℃

Working Humidity Range: 0~99%

MTTF: ≥ 3 years

Dimension: 50 * 38 * 21 mm/1.97*1.50*0.83 inches

Air Quality Monitor (PM 2.5, Formaldehyde, Temperature & Humidity Sensor)

x1

8-Pin Cable

x1

PM2.5 Adapter Board

x1

Air Quality Monitor PM 2.5, Formaldehyde, Temperature & Humidity Sensor